It's my birthday today and the hu'parents had a treat in store for me. No pressies, no nibbles but a day snowshoeing, Fantastic. We all piled in the cars and headed up the mountain to an area known as Puente Palo. At the first bit of snow I found I rolled in it!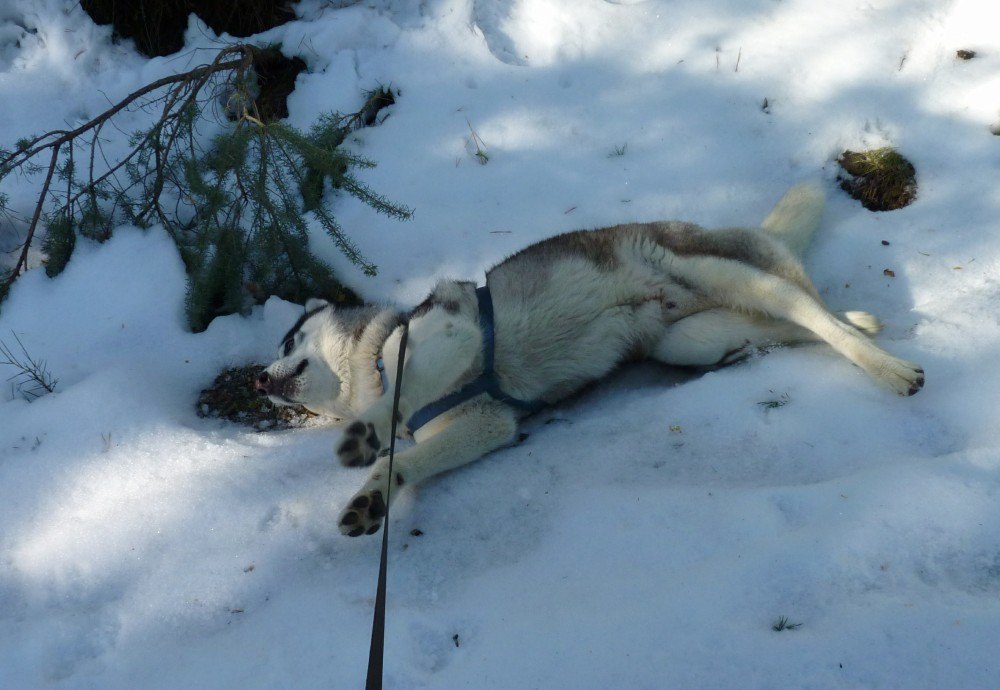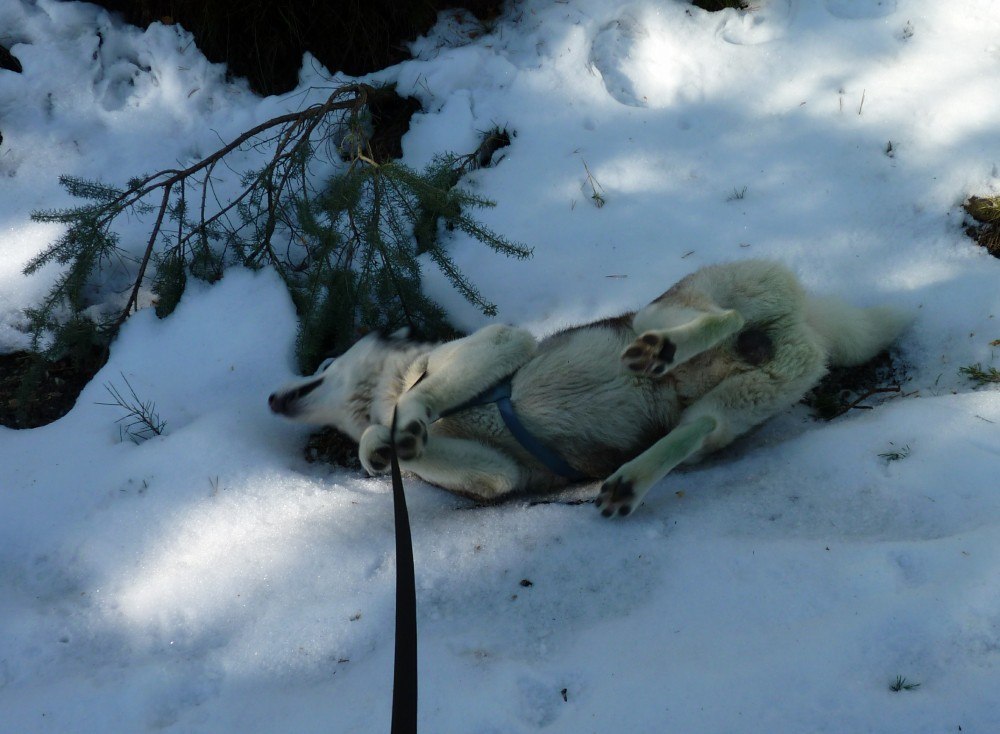 The sun was out whilst we made our way through the forest but when we came out of the forest to a clearing to have lunch the cloud had caught up with us. Whilst the humans were eating, I got to run free.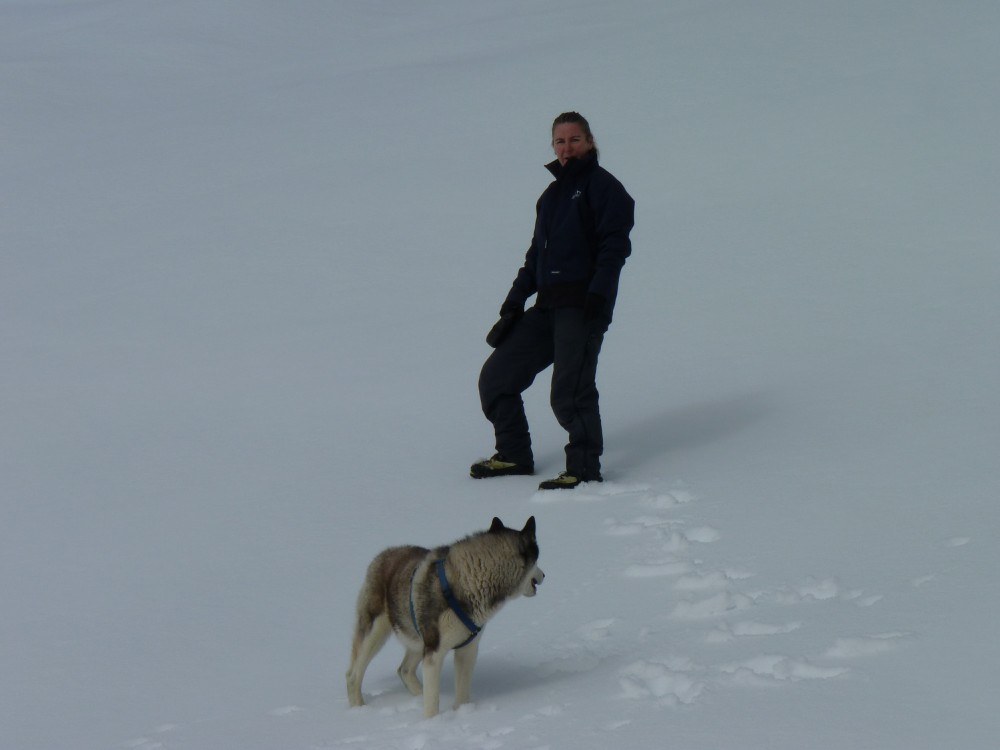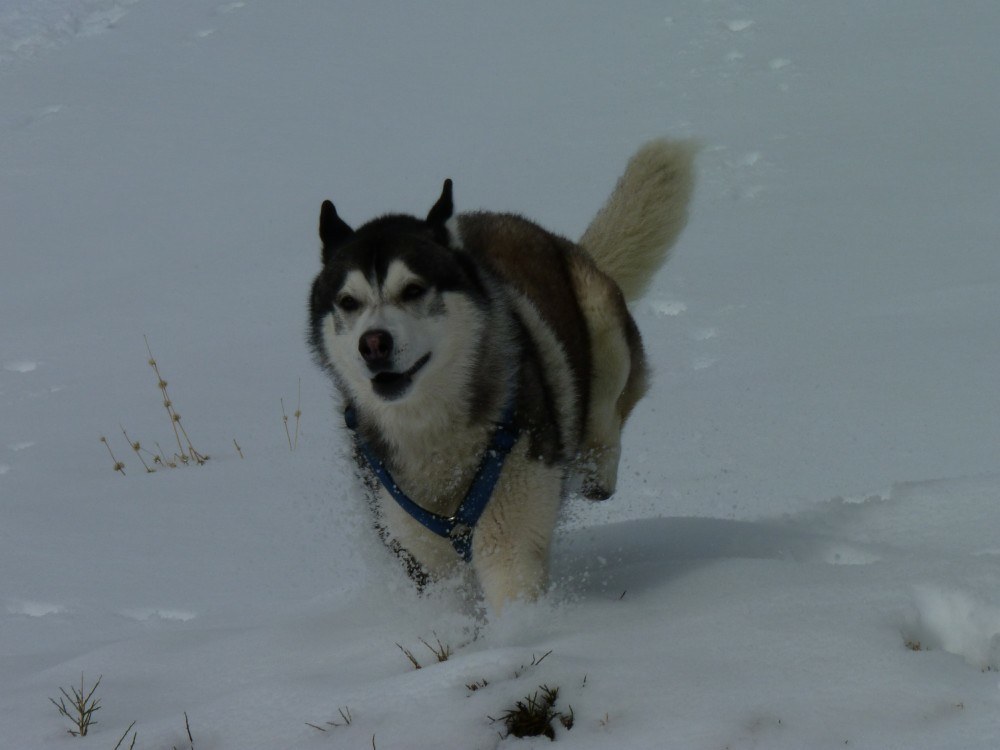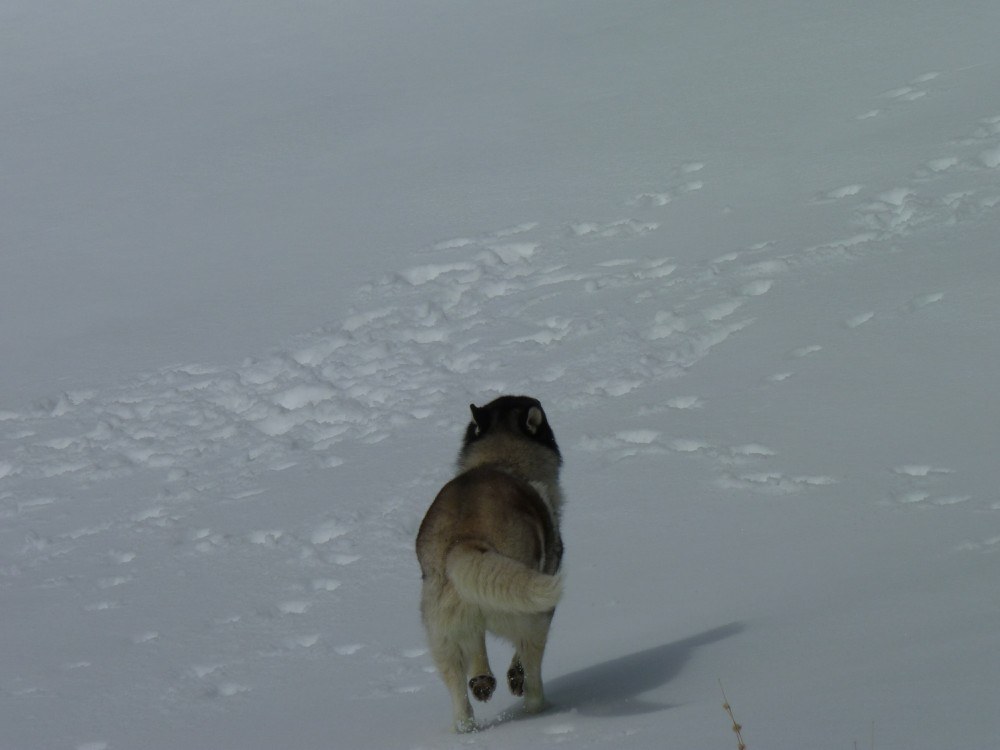 Hu'mum though it would be fun to slide down the slope with me and Bruno chasing her.
Bruno always grabs hold of you by your leg or arm, hu'dad says he is rescuing but I think he just trys to drag the humans down the mountain! Me I just zoomied about, it all just so exciting.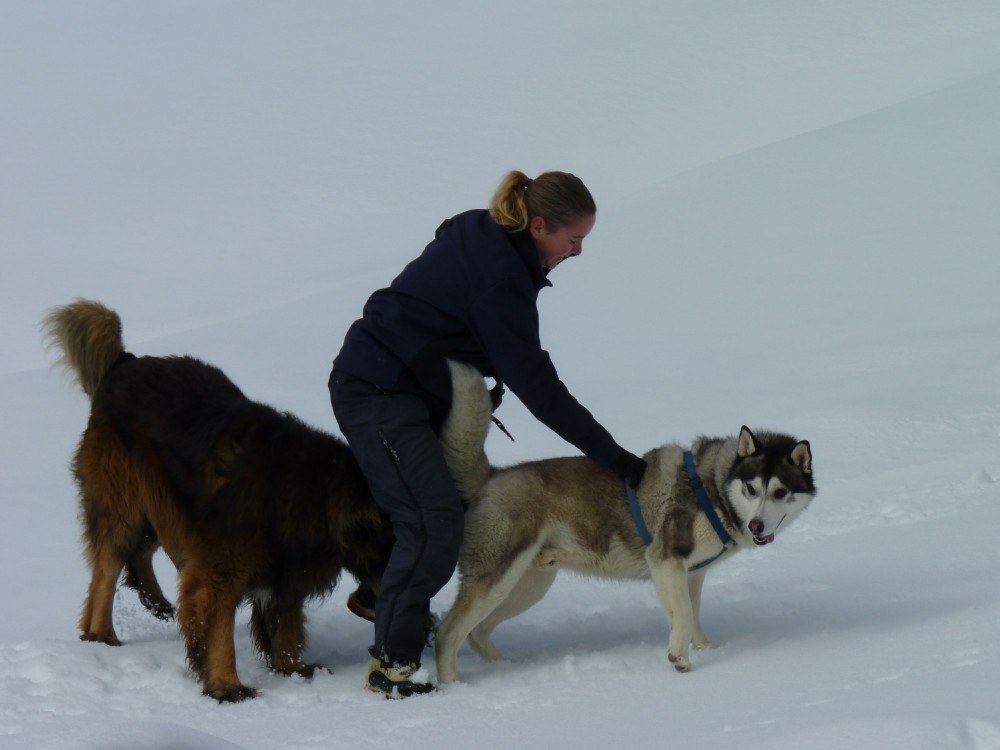 I did my good deed for the day and helped to pull Vic up the mountain. Everyone had snowshoes except hu'mum.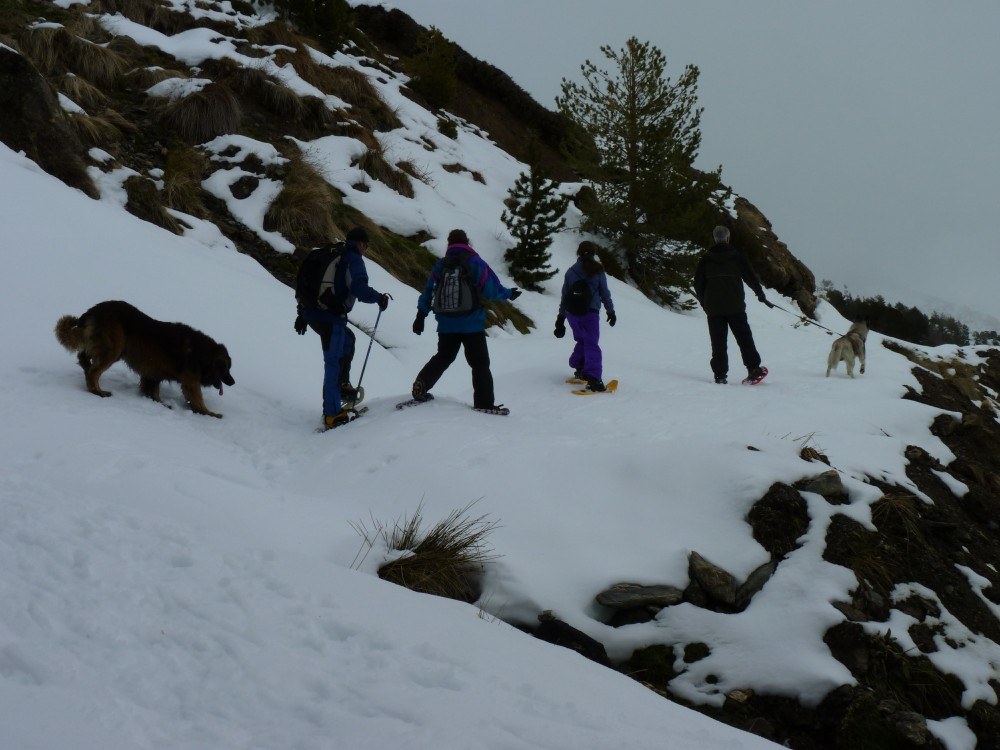 So not long after the above photo, me, Bruno and hu'mum turned around and headed back to the clearing to wait for the others.
It wasnt too long before hu'dad and co arrived.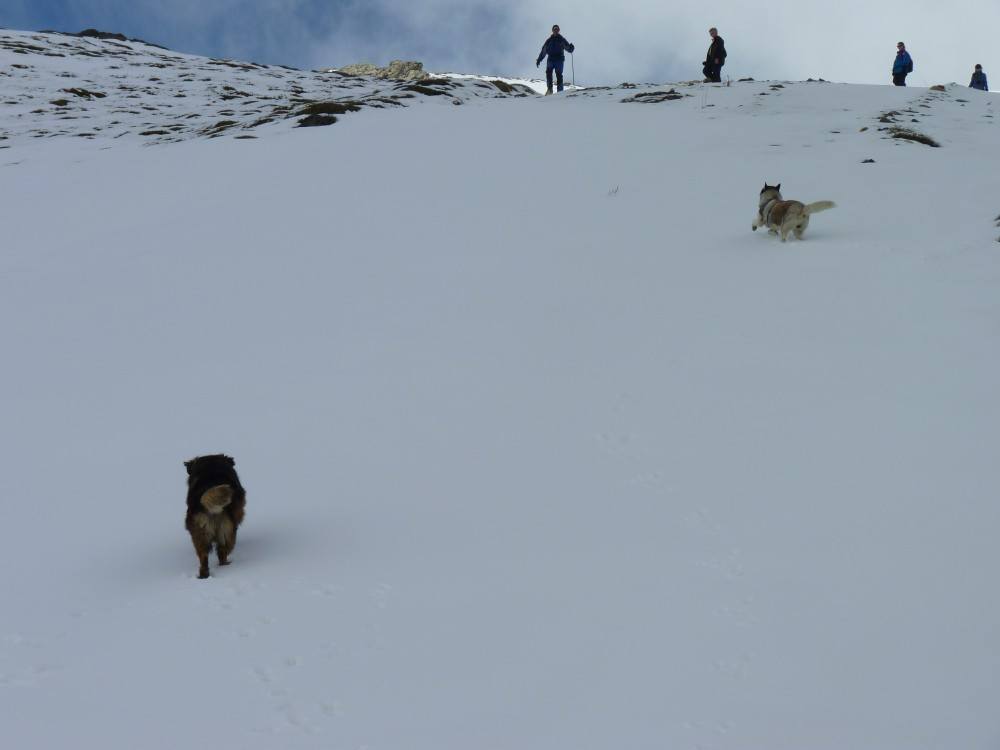 Then hu'dad decided it would be fun to slide down the mountain, so Bruno attached himself to hu'dad and I did what huskies do, I zoomied :-)
So that was my 4th birthday and what a fun day we had. I hope you enjoyed seeing my birthday pictures
Khyra: What an inkhredible birthday! Thanks fur sharing all your fun with us! BTW, if I had been able to run free, I might be bakhk to Siberia by now ;-) Hugz&Khysses, Khyra
Pamela: Waking up to see pictures of zoomies is the best. Glad you had such a happy 4th birthday!
Tyler & Dez: WOO HOOO! What a awesome birthday! day!!
FiveSibesMom: Woooos - Happy (belated) Birthday Khumbu!!! How did we ever miss your birthday???? How much fun you had! The pics are gorgeous and I especially love the one of you and Bruno "staring" in the cloud! I know you had a wonderful day with your Hu-family and snowshoeing…lots of woos and Husky hugs coming your way!!! Happy 4th Birthday to our handsome and dear furpal! :-)
Wild Dingo: OMD! that looks sooooo fun! we went snowshoeing too but sans the doggies. it was our first time and in the Alps, and it was STEEP. So steep that we couldn't use a leash on some of the ledges we had to cross if we had the doggies. we plan to scope out good doggie snowshoeing here soon. not sure if we'll take juno yet as she's still being evaluated for surgery and we need to get back to that first. but boy does that look FUNBALLS. maybe we'll do that on her 4th birthday next year (well a belated brithday since she's born in August!) great shots!
RAHUSKY: What a grand time! Happy happy birthday Khumbu!!!